---
View and Compare Our Credit Cards
ValleyStar Horizon Rewards Visa® Card
Introductory Offer: 5,000 Bonus Points on your first purchase transaction!**
Earn rewards points for every dollar you spend! Points are redeemable for merchandise, travel, gift cards, cash and more.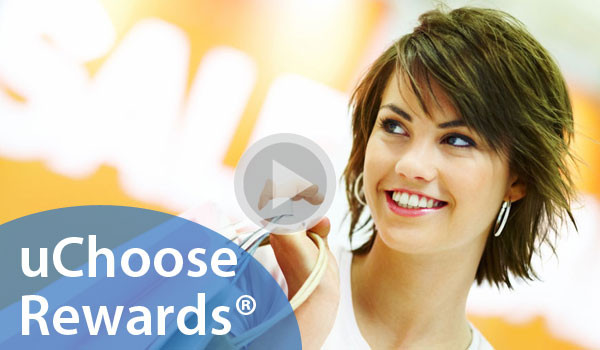 Enjoy a robust uChoose Rewards® program – earn 1 point for every $1 spent on qualifying transactions
Enjoy a low rate
Credit limit up to $30,000
No limits or points expiration
No annual fee
No cash advance fee
No balance transfer fee
Added security of EMV® chip technology and Visa®
2% foreign transaction fee
Apply Now
Track My Rewards
ValleyStar Horizon Visa® Card
Our low rate on the Horizon credit card allows for more purchase flexibility and helps keep you in control of your finances.
Enjoy a low rate
Credit limit up to $30,000
No annual fee
No cash advance fee
No balance transfer fee
Added security of EMV® chip technology and Visa®
2% foreign transaction fee
Apply Now
uChoose Rewards FAQs
uChoose Rewards is a rewards program where you earn points for shopping or using your ValleyStar Horizon Rewards Visa® Card, then redeem your points for anything of your choice from a huge online rewards catalog at www.uchooserewards.com.
How do I earn points?
Earn points on qualifying transactions outlined in the welcome materials you received after signing up for this program. Earn even more points when you shop at the participating retailers listed. Choose to shop in-store at national or local retailers or online through www.uchooserewards.com. When shopping in-store, select credit and sign for your purchases.
Where can I earn points?
You earn points everywhere your card is accepted
What can I redeem my points for?
You can redeem your points for literally thousands of options. It all depends on your personal preferences. You can get event tickets, electronics and hi-tech gadgets, spa treatments, apparel, airline tickets, and activity vouchers – the list goes on and on. Browse the redemption section to see all the exciting options available to you.
When can I redeem my points?
It can take up to 60 days for your points to be credited to your account. You must accumulate 1,500 points before you can redeem your points. After that, you can save for any number of amazing items. Simply look for your "Total Points Available for Redemption" on the Point Details page to see how many points you have available for redemption.
How much does it cost to participate?
There is no cost. Membership in uChoose Rewards® is free for ValleyStar cardholders, so start shopping and earning today.
Can I share points with family members?
Yes, all cards within an account automatically earn points together. However, if you have multiple accounts with ValleyStar, you cannot link them together to earn rewards.
What if I have another question?
If you have other questions not answered here, you can contact us at [email protected] or 800.475.6328.
---
Application and Solicitation Disclosure for VISA
Application and Solicitation Disclosure for Mastercard
---
Digital Wallet
Digital wallet, or better known as Apple Pay®, Samsung Pay® and Google PayTM, is now available for all debit and credit cardholders.
Digital wallet payments are actually more secure than using your debit or credit card.
WHAT IS DIGITAL WALLET AND HOW DOES IT WORK?
Think of it this way: your credit card now has a second home – your mobile phone (or any other digital device)! When you're out shopping in stores and you get to checkout, simply tap your phone where you see the digital wallet logo. Or select the digital wallet logo when shopping online and in apps.
HOW DO I SIGN UP?
Visit the App store, based on the type of phone, and install the app. Note that newer phones may already have the App installed on the phone.
Enter or scan the card information.
If you experience issues with the App, call the number provided within the App. If you continue to experience issues, contact us. We are here to help!
---
Terms and conditions subject to change without notice. Subject to credit approval. Rates may vary based on individual credit worthiness.
*Credit Card Agreement & Disclosures
Credit card approval depends on the applicant's creditworthiness and other qualifications. Rates, terms and conditions are subject to change without notice. APR (Annual Percentage Rate) is based on the applicant's creditworthiness and is subject to change. APR will vary with the market based on Prime Rate. Certain restrictions apply. See official credit card agreement and disclosure for complete details.
**Offer valid for qualifying Horizon Visa® applicants. To receive the 5,000 Bonus Points Introductory Offer, cardholders must register their card at uchooserewards.com and make a purchase transaction (not a cash advance). 5,000 Rewards Points will then be added to their uChoose Rewards account within 30 days. If one account has two cards issued, the bonus points offer will apply to the account, not to each card on that account. Offer valid for a limited time only.